Professional PDF Invoicing For Your Online Store
Professional PDF Invoicing For Your Online Store
Today we released a new feature which allows you to send and download your Online Store orders as PDF files.
When a customer makes an order through your website shopping cart they will be automatically mailed a copy of their order in email and PDF format. Plus, you can also send or download the orders at any time from the Online Store menu.
Click the 'All Orders' option and find the order you want to save or send as a PDF. You'll see the new option at the top of the page:
Professional PDF Invoicing For Your Online Store
---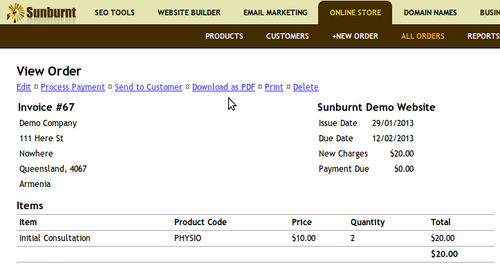 PDF is a convenient and professional way to print and archive documents, so when your customers will like having their orders and invoices sent as PDF files.