No More Free Blekko SEO Tools
No More Free Blekko SEO Tools
Today the Blekko search engine has silently put an end to their free /seo slashtag which provided public SEO information on web pages and domains. Make a search using the /seo slashtag and you will be redirected to the page below.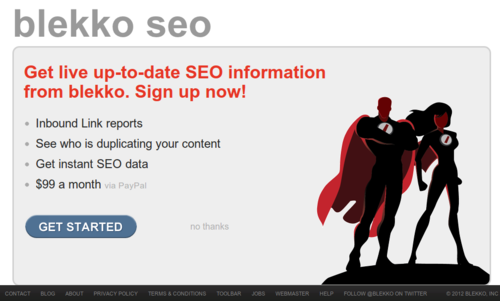 According to their help section "blekko doesn't believe in keeping secrets", however it seems this should be more accurately interpreted as "blekko has secrets which you can buy for $99/month".
No More Free Blekko SEO Tools
---
We contacted Blekko about the move and received the following response.
Blekko remains commited [sic] to transparency of search results. But we have valuable seo data, and will be monetizing this data going forward.
The operative word in this response is "but".
Blekko are not committed to the transparency of search results. You can't be transparent with the same data you are selling.
Blekko also wrote:
All of the blekko seo data will transition to being behind a subscription plan.
This is a blow for the transparency of the web, as Blekko were the only search engine (now SEO company?) to have provided up-to-date and accurate data such as Host Rank which measures the authority of a domain on a linear scale.
Is Blekko still a search engine?
How would you react if Google started selling SEO data?
About Roger Keays