How To Setup A Welcome Email For New Subscribers
How To Setup A Welcome Email For New Subscribers
We have a new feature that lets you write a welcome email which is automatically sent to new subscribers of your mailing lists. Each of your contact lists can have a different welcome email and you can also edit the message whenever you need.
Some uses of this feature are to:
Say thanks for subscribing.
Offer incentives to potential subscribers by sending them discount codes when they subscribe.
Send a list of links to your top content to keep new subscribers engaged.
Setting up a welcome email is very simple, just follow these steps.
Log in.
Go to the "Email Marketing" tab and select "Contact Lists".
Find the list you want to setup a welcome email for and click the edit icon.
On the edit screen you'll see the form below which you can use to write your welcome email.
How To Setup A Welcome Email For New Subscribers
---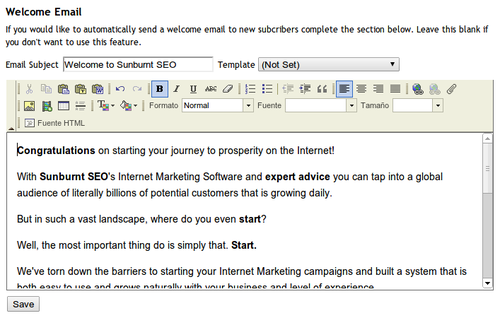 You can select any template you have built with the Design Editor to make your welcome email look pretty. If you do not select a template, your default web design template will be used.
Most new subscribers will also receive a verification email which contains a link to verify their email address.